Breakthrough! 2.0!
A Review
by The Fordyce letter
The recruiting industry's most widely read print and online newsletter in the world
If you are an experienced recruiter with a solid foundation who is open to getting even better, we have a suggestion for you. Buy Steve Finkel's new book.
The name of the book is Breakthrough! 2.0 Exploding the Production of Experienced Recruiters. And that is exactly what it is all about.
There is not an experienced consultant (or new one) who won't benefit directly and substantially from the sophisticated in-depth material covered in Breakthrough! 2.0.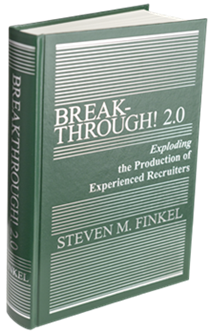 Let's take some examples:
Need new clients or want to develop your existing client base? You'll find three outstanding chapters on these exact subjects.
Are billings below your expectations? There are dozens of specific suggestions in the two chapters entitled "Achieving Strong Billings in Any Market!"
Want creative original ideas to improve your Sendout-to-Placement Ratio? See "The Dead Questions " and "Testing the Search."
Is your production inconsistent, up one quarter, down the next? "Managing the Process" and "Slump: Causes and Cures" will correct this problem.
Losing deals to counteroffers and turndowns? You'll get innovative material including an excellent chapter on "Closing" that will save you fees that would otherwise be lost.
Thirty chapters provide a wealth of sophisticated and highly useful information to increase your skills in every facet of our business, including some that many had not even considered.
Mr. Finkel has decades of experience as an in-house trainer and consultant working with the best producers on five continents. His expertise in our industry is unequaled.
Finally, there is the overall "readability." A 300 + page business book could seem weighty. Breakthrough! 2.0, however, moves along quickly. Finkel doesn't just state rules or suggestions. He explains why, as well as how, in a clear writing style, and gives interesting relevant examples.
It is worth noting that this is a dramatic rewriting and expansion of a previous book of a similar name. If you have the original, is this worth purchasing? Absolutely. New chapters and additional material as well as significant revisions make this a mandatory investment.
Breakthrough! 2.0 Exploding the Production of Experienced Recruiters is a major contribution to our industry. Regardless of your production, you will greatly benefit from this remarkable advanced level book.