NEW clients are the key to your long-term success in Recruiting!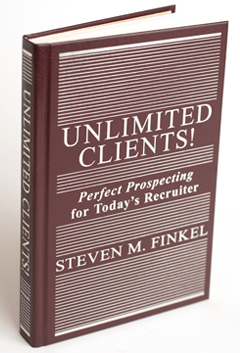 Here's what you'll get in this revolutionary book
Unlimited Clients!

in download or hard copy!
Strategic and Enhanced Client Generation
Unique Techniques for the Initial Prospect Conversations
Dramatically Increase Returned Calls!
Leveraging Your Current Calls Into Significant New Leads
Managing Your Database To Yield Continuous Prospects
Transitioning from Contingency to Retainer
Increasing Consistency of Production
and much

much

more!